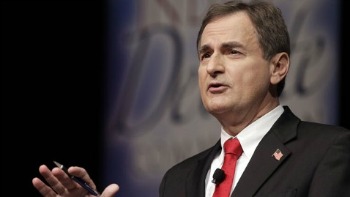 By NICK CHILES
Indiana Senate candidate Richard Mourdock in a debate last night offered the women of America a vicious kick in the gut, suggesting that women who get pregnant from a rape should still be forced to deliver a baby because it's "something that God intended to happen."
These guys clearly have no shame.
Mourdock is a Tea Party-backed candidate who beat moderate Republican Sen. Richard Lugar, a longtime Senate veteran, in the Republican primary earlier this year. During the debate, Mourdock said that he would allow abortions only when the mother's life was in danger.
"I struggled with it myself for a long time, but I came to realize life is that gift from God," Mourdock said. "And I think even when life begins in that horrible situation of rape, that it is something that God intended to happen."
Word of advice to Republicans who might be listening: When we're talking about the rape of women, it's probably best to leave God's name out of it.
What has become clear is that certain members of the Republican Party forgot their grammar school civics lessons, when we all learned that we live in a country that has laws specifically delineating a separation of church and state so that no crazy fringe politicians are ever tempted to incorporate their religious beliefs into the laws of the land. It's ironic: For all of the attacks that Americans make on the Muslim religious fanatics running around parts of Africa and the Middle East, at times we don't look that different, with Christian politicians in America increasingly trying to impose their own religious beliefs on the rest of us.
But before you go away thinking this Mourdock guy is some fringe lunatic, know this: the Republican Party approved a platform at the GOP convention in Tampa this year that pretty much mirrors Mourdock's position—except for Mourdock's little extra spice added about God's will. The GOP platform calls for a constitutional amendment banning abortion—with no exceptions for victims of rape or incest, or to save the life of the mother.
And then there's former Republican presidential candidate Rick Santorum, who told Piers Morgan in January that "I think the right approach is to accept this horribly created — in the sense of rape — but nevertheless a gift in a very broken way, the gift of human life, and accept what God has given to you."
And who can forget Missouri Senate candidate Todd Akin, who was even attacked by nervous Republicans when he suggested that it was "really rare" for women to get pregnant from "legitimate rape" because their bodies had some magical capability to prevent it.
In Indiana, Mourdock's Democratic opponent, Joe Donnelly, who is also pro-life but who supports exceptions for rape and incest, released a statement questioning Mourdock's reasoning that God would "intend for rape to happen."
"The God I believe in and the God I know most Hoosiers believe in, does not intend for rape to happen—ever," Donnelly said. "What Mr. Mourdock said is shocking, and it is stunning that he would be so disrespectful to survivors of rape."
Mourdock, perhaps sensing the damage he had done, held a press conference after the debate to clarify his comments. He even got mad, saying that what he had meant to say was that "God creates life," and any interpretation of his comments to mean God "pre-ordained rape" was "sick" and "twisted."
"What I said was, in answering the question from my position of faith, I said I believe that God creates life. I believe that as wholly and as fully as I can believe it. That God creates life," Mourdock said. "Are you trying to suggest that somehow I think that God pre-ordained rape? No, I don't think that. That's sick. Twisted. That's not even close to what I said. What I said is that God creates life."
The Mitt Romney-Paul Ryan ticket isn't too far off Mourdock's stance, although the campaign was quick to distance itself from Mourdock—after Romney campaigned with Mourdock in August and even appeared in a campaign video on his behalf. Romney opposes abortion with exceptions for the victims of rape and incest and if the life of the mother is at risk, but his running mate Paul Ryan opposes all abortions except to save the life of the mother, which is the same position as Mourdock's. The only difference is Ryan and Romney are a little more careful about letting people know their positions as plainly as Mourdock.
"Gov. Romney disagrees with Richard Mourdock's comments, and they do not reflect his views," Romney spokeswoman Andrea Saul said in the statement.
Excuse me, Miss Saul, but they do reflect his views. Romney and Ryan are just smart enough to leave out the part about God's will—at least when talking to national audiences. What they say at private fundraisers in front of wealthy donors is another matter. We have to wait for another videotape to find that out.
RELATED POSTS:
1. All Up In Our Uteruses: Rick Santorum Says No To Prenatal Testing, Virginia Says Yes To Vaginal Probes
2. Black Women Speak Up! Tell Congress To Stay Out Of Our Wombs
3. Why I'm Voting For Barack Obama In the 2012 Presidential Election
Mom. NY Times bestselling author. Pop culture ninja. Unapologetic lover of shoes, bacon and babies. Nice with the verbs. Founder of the top black parenting website, MyBrownBaby.