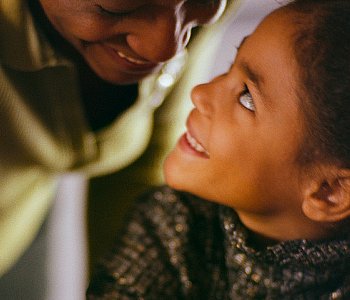 By NICK CHILES
If you stumble into my home on many a night, you might come across an unusual sight: me trying vainly to teach my daughters how to speak English wrong.
Well, perhaps "wrong" is the wrong word. I've read and written enough about black English over the years to refrain from calling it "wrong"—but that's certainly the way my 13-year-old daughter looks at it.
A typical exchange in my home:
Me: Mari, repeat after me, 'Why you ain't goin'?'
Mari: Why aren't you going?
Me: No, you're saying it wrong.
Mari: But Daddy, I don't understand why I need to learn to say it wrong!
My wife Denene and I giggle and shake our heads as I search for an explanation that will make sense to her.
This is a tableau that I'm sure is repeated in middle-class households throughout the black community. As we endeavor to raise fabulous, well-rounded, well-educated black children, many of us have moved into communities that we deem safe and secure, with great schools and plenty of enrichment opportunities. I don't think I'd be shocking you by saying that most of these communities tend not to contain large African-American populations. As a result, we find our children growing up in communities where they don't hear much of the language and vernacular that many of us grew up hearing.
In other words, they don't know nuthin' 'bout black English.
And though some may disagree, in my mind this is not a good thing.
The usefulness of black English is a subject that has been studied for years by academia. In fact, I did my senior essay at Yale—the senior essay was a requirement for my bachelor's in psychology—on the contextual utility of black English. The black community has long used language as a method of establishing membership, familiarity—a way of excluding those who can't use it the way we use it. Educated blacks become adept at code switching—using the language in one way to talk to friends, family, casual acquaintances in the black community, and another way to talk to co-workers and in professional settings. In other words, to talk to white people. During my college studies, I learned how much of the words and language usage in black English can be traced directly to the languages of West Africa that our ancestors brought over during the slave trade and incorporated into the English they had to learn to communicate with each other.
When other blacks are unable to code switch, don't have any comfort with black English, it doesn't mean that they are bad people—but it does tell us they likely didn't grow up around many African Americans. We may bristle at the ignorance that we believe is rampant when black kids accuse each other of sounding "white," but we can't deny that this thinking is still very much alive in our community—and most of us have to admit that we've thought negatively on occasion when we came across an African American who stiffly seemed unable to code switch.
Barack Obama used black English very subtly and effectively during the 2008 campaign and in the years since to tell black people that he is one of us. Some people have called it patronizing, but it is something that everyone does, particularly politicians. Latinos speak differently to other Latinos than they do to non-Latinos—as do Italians and Jews and Chinese. There are words, gestures, idioms, slang, that instantly signal you are an insider, not an outsider. Anyone who has traveled the world knows that in some places, this may even get you a lower price on retail goods or a better deal for a piece of real estate.
On a personal level, I have seen over the years how important it has been to my relations with other African Americans that I am able to effectively code switch. It puts other blacks at ease, lets them know who is "down" and who is not. To be honest, it becomes even more important the more educated and successful you become—because often the expectation by those within the community is that you won't be able to do it. Or that you wouldn't want to. When you can, it conveys a great deal of information to them about your upbringing, your familiarity and comfort with all different types of black folks—in other words, that you don't believe your education and income make you better than other black people.
This is important stuff. I want my daughters to be as adept at code switching as I am, so that they will feel comfortable in a variety of situations, and be able to make other black people feel comfortable with them. I think this is an essential part of their education and development.
So the black English lessons will continue over the next seven years, until both of them are off to college. (Incidentally, for some reason the 10-year-old takes to the lessons more naturally, the black English flowing smoothly from her lips like she spent her prior life strutting around the housing projects of East New York or the South Side of Chicago. We do not know how to explain this.)
I know they're not likely to get these lessons at school, since they are both surrounded by mostly white and upper middle class black kids. I don't expect that Denene and I will be bringing them into the hood much over the next seven years for them to develop a comfort with black English by osmosis. So that means the task, if it's going to happen, falls to their parents.
Raising successful black kids in the new millennium puts you in some weird, amusing positions. This is not the kind of stuff you are likely to find in a child development textbook. But that doesn't mean it's not important. After all, that's why MyBrownBaby is here, to deal with all of that stuff outside of the textbooks.
(I'm tempted here to close with some cute, pithy bit of black English, but I will resist.)
How have you handled this issue in your own home? We'd love to hear your stories.
RELATED POSTS:
1. Be Inspired: Tray Chaney Of "The Wire" Uses Hip Hop To Affect The Lives Of Black Children
2. When It Comes To the Best Schools, Where Are the Black Students?
3. A Black Mom's Lament: How Can We Parents Stop Schools From Failing Our Kids?
4. Black Parents Want GOOD Teachers, Not Necessarily Black Ones
Mom. NY Times bestselling author. Pop culture ninja. Unapologetic lover of shoes, bacon and babies. Nice with the verbs. Founder of the top black parenting website, MyBrownBaby.