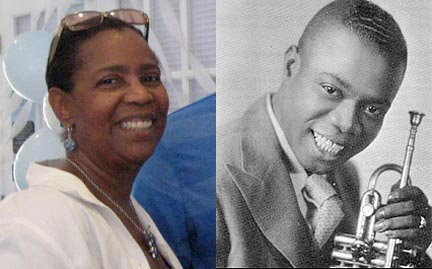 On the first day, in the first 15 minutes after I met Sharon Preston-Folta, we cried together. Her story, her testimony, simply moved me. Sharon, you see, is the secret daughter of dancer Lucille "Sweets" Preston and famed trumpeter Louis Armstrong, the innovator of one of America's most innovative musical art forms—jazz. And for more than a half century, she was kept a secret. By her father, an international icon who did not, perhaps, want the world to know he'd fathered a child out of wedlock. By her mother, who insists, to this day, that her and Louis's business was no one else's concern. By Louis's wife, who legally erased Sharon from existence when she claimed her husband never had children. She was kept secret, even, by herself.
"But you have the right," I insisted in our first meeting, my eyes welling with tears. "You have the right to claim all of you. To know and say out loud whose blood runs through your veins."
And she does. Which is why I agreed to write Sharon's book, LITTLE SATCHMO: Living In the Shadow Of My Father, Louis Daniel Armstrong
. This perfect little jewel of a book, available on Amazon.com and chronicled last week in the New York Times, the Times Picayune and a plethora of newspapers and online news sites around the world, tells the story that all-too-many of us are familiar with: a daughter, desperate for her father's love, searches for him in her memories and through the stories of others. As she longs for his embrace, and cycles through a range of emotions, she recounts all she can about life with Louis Armstrong and especially without him—a life that, for a while, led her down a destructive but familiar path of promiscuity, teen pregnancy, single motherhood, poverty and, eventually, a life-altering charge to take control of her life and her legacy.
I chose to write "Little Satchmo" because Sharon's story is all of our stories. Louis Armstrong was believed to have died childless, and there are scant references of his daughter's existence in, literally, hundreds of books written about the legend and his life, despite that Armstrong believed Sharon is his child, supported her and her mother financially and spent time with her and extended family. Sharon is not recognized by his estate and has little proof, beyond a signed affidavit from her mother and a plethora of letters from her father, that she is his. This is, perhaps, her greatest pain of all—a pain that moved me, a child of adoption who will never know whose blood runs through my veins, but understands intimately the power and want to know who… you… are.
Sharon's pain is our pain—her triumph, the triumph of millions of children who, despite being emotionally abandoned by their fathers, succeeded. In the opening passage of "Little Satchmo," Sharon assures that she is neither bitter, angry nor a gold-digger. Instead, she writes, "I am a daughter."
And so I write this book to give not only a rare, intimate glimpse into who Louis Armstrong was as a man, lover and father, but to say, finally, that I do, indeed, exist. That I am not invisible. That I have a history, a legacy and a voice that deserves to be heard. Not just for my own peace of mind, but for that of the millions of children who have grown up or are growing up in fatherless households, being raised by the hand of single mothers and grandmothers and aunties who made a way out of no way for their babies, even as the fathers of their children walked away, leaving generations of children to grow up without a keen understanding of their own blood, their own DNA, their own history. Their legacy.

It is for them that I am stepping out of the shadows.

For them.

For my children and my grands.

For me.
Download LITTLE SATCHMO: Living In the Shadow of My Father, Louis Daniel Armstrong
by Sharon Preston-Folta, written with me, Denene Millner, for $2.99 via Kindle or $9.99 in paperback
(a GREAT Christmas gift for the jazz lover in your house!) on Amazon. It is a lovely, moving read (if I say so myself!)—and full of new information about Louis Armstrong THE FATHER and lover. Certainly, it's a piece of history that, I promise, you will appreciate. Happy reading!
RELATED POSTS:
1. Dear Daddy: New Documentary Tells the Story Of Fatherlessness Among Daughters
2. Daddy Denied: Jay-Z Says Fatherlessness Made Him Delay Becoming A Dad
3.  A Second Chance: Should Kelly Rowland Let Her Absentee Dad Back In Her Life?
4. Ice Cream Promises: A Son Yearns For True Love From & Connection With His Father
Mom. NY Times bestselling author. Pop culture ninja. Unapologetic lover of shoes, bacon and babies. Nice with the verbs. Founder of the top black parenting website, MyBrownBaby.