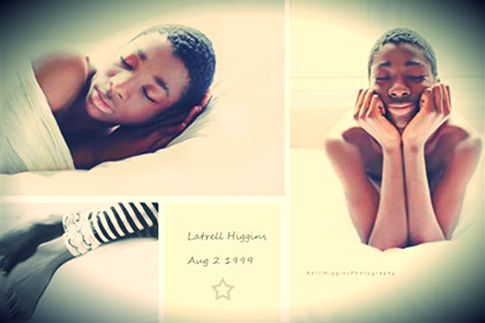 Baby pictures are hard to come by for adoptees, especially if they've spent years in the foster care system. Maybe the birth parents didn't have the time, money or inclination to take a few, and surely, adoption agencies don't have the resources to concern themselves with such things. I have only two baby pictures that I know of, and in those, I'm about six months old, so I haven't a clue what I looked like before then—how I blossomed and filled in and morphed into who I am today. Which is what makes these "new" newborn photos of a 13-year-old Florida adoptee so incredibly sweet.
Latrell Higgins, adopted along with his sister by a Florida photographer and her husband two years ago, mentioned during a dinner table discussion about his mother's upcoming newborn photo shoot that it would have been cool to have newborn photos of himself. His mom, Kelli, thought her son's wish bittersweet: "I was very sad too because I didn't have any photos of him either," Higgins told the Today show. "I think it's really hard to have children and not know what they looked like when they were younger."
But "newborn" pictures of Latrell became more than a notion when his 12-year-old sister, one of Kelli's five biological children, suggested they "recreate" a newborn photo shoot just for the teen. The next day, the two created the shot illustrating this post, both laughing hysterically the whole time. Kelli immediately posted it on Facebook with a status update that read, "Here's my sweet not so little Newborn! His name is Latrell and weighs 112lbs."
Latrell's "newborn" photo since has been shared on Facebook thousands of times.
Of course, some raised concerns that Latrell would be embarrassed by the pictures, but the 13-year-old, born August 2, 1999, says he and his friends think they're pretty funny. And parents who've adopted children of their own have been incredibly supportive online. Wrote one mom: "This is such a beautiful thing to do! I know so many people who adopted older children and don't have ANY pictures of their infancy. What a spectacular way to remedy that… after all, he'll always be your baby."
In the meantime, Kelli Higgins is using the momentum created by her teenage son's "newborn" photos to rally families to adopt older children. Which is, perhaps, the sweetest thing of all, particularly considering how many African American children are waiting to be adopted. Rock on Latrell and Kelli! Rock on.
RELATED POSTS:
1. Adoption and 'The Blood': Embracing the True Meaning Of Love, Family and the Ties That Bind
2. A Mother's Love: A Love Letter To The Woman Who Gave Me Away
3. African American Babies Need Moms Who Know Their History
4. Happy 10th Birthday, Mari! Double Digits Rock!
Mom. NY Times bestselling author. Pop culture ninja. Unapologetic lover of shoes, bacon and babies. Nice with the verbs. Founder of the top black parenting website, MyBrownBaby.