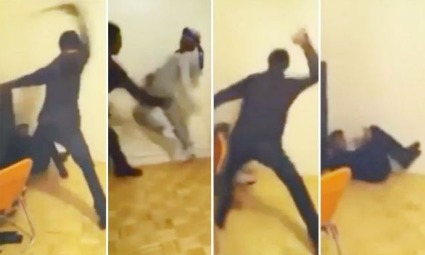 I am shaking, eyes filled with water, heart racing, alternately horrified, disgusted and absolutely pissed after watching the viral video of a father beating his daughters with cable wire for posting twerking videos on YouTube.
My girl Demetria Lucas Tweeted me about it a few days back, but I took my time reading the stories and writing about it on MyBrownBaby because, really, what more is there to say here about hitting kids? My thoughts on discipline and childrearing are well-documented: I do not believe physical punishment has a place in the way I'm raising my daughters. And hell yes, I judge other parents who hit their kids. (Be mad about that if you want to. It is what it is.)
Still, writer and friend-to-MyBrownBaby Britni Danielle e-tapped me yesterday about her Clutch story, "So It's NOT OK to Hit Your Girlfriend, But Beating Your Daughter Is Cool?" and asked me to weigh in on her raucous Facebook thread, in which her friend and followers were making the argument for why it was perfectly okay for a grown man to use a thick, black cable wire to whip his daughters like they were in a scene from Django Unchained. For dancing and posting said dances on YouTube. My contribution to the discussion:
I'll tell you this much, Britni Danielle: this is one scary ass thread. I will say this, though: I do not and will not ever believe in beating my children. I'm a smart woman. And a great mom. In my 13 years as a mother, I've used those skills to get my kids to do as I say and to be mannerable, smart, good children. Are they perfect? Hell no. Do they do some things that get them in trouble? Of course. They are human. Little human beings need to be TAUGHT how to be human. Does that require me to grab extension chords and leather straps and branches off trees to teach them a lesson and show them who's boss? Fuck. No. Not. Ever. And I don't mind saying it: my daughters are OUTSTANDING, without ever having been hit or cursed at. This is not up for discussion in my house or in response to this comment. Really, I have absolutely no patience, tolerance or time for the ignorance that comes with insisting that beating a child with an extension chord proves a parent "cares." Britni: thank you for that thoughtful post. It's spot on.
It wasn't until this morning, though, that I actually watched the video. It. Hurt. Me. To. My. Core. For the life of me, I can not understand how a grown man can force two little girls into a corner and, with all his strength, mass and might, WHIP them like dogs while their blood-curdling screams and pleas rise thick in the air.
This man should be prosecuted. I hope to God, Sweet Baby Jesus, Yahweh, Oshun, Allah, Jehovah, Ma'at and Jah that someone recognizes his face and his voice and his YouTube channel and sends child authorities straight to his house so that he can be charged as the abuser that he is. And I pray that those girls get emotional healing along with their physical healing, too, and that someone steps up and becomes a real PARENT to those girls because, my God, what they have now is NOT it.
You want your girls to not do sexually suggestive dances? Talk to them about why dancing like a stripper or video ho is inappropriate for any woman, much less a young teenage girl. You want your girls to stop posting inappropriate mess on YouTube? Teach them how to use social media properly and the consequences that come from using it irresponsibly. (Clearly this father, who beat the crap out of his kids on a video that found its way to the internet might need some lessons on this one, too.) Want to punish them for their tomfoolery? Take away their phones, disable their cameras and bar them from the internet except for supervised schoolwork until they get it. That's parenting.
I borrow liberally from one of Britni's Facebook commenters, Tiyana Peters, by adding this: if your child is posting Twerking videos on YouTube, you're failing as a parent. If you're beating your child at 14, quite obviously, your barbaric childrearing tactics are not working. And if you are a grown ass, hulking man putting your back into beating little girls like they're fresh off the Amistad, you've failed in life.  That is not caring. That is not love. It is abuse. Period.
RELATED POSTS:
1.  Videotaped Beatings and Child Abuse Handbook Show Why Hitting Kids Is Dead Wrong
2.  A Reformed Spanker Reveals Why She Wishes She Would Have Spared the Rod.
3. Spanking, Time-Outs and the Soul Train Line: Getting To the Discipline That Works For Us
4. Black Belt Uncle Beats Nephew To Death For Not Picking Out Clothes Fast Enough—And We Ask Why
Mom. NY Times bestselling author. Pop culture ninja. Unapologetic lover of shoes, bacon and babies. Nice with the verbs. Founder of the top black parenting website, MyBrownBaby.