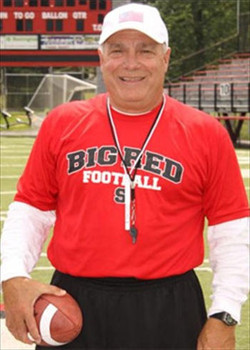 Clearly, something ain't right in the community well out in Steubenville, Ohio.
It is there where teen girls get drugged.
And raped while unconscious.
And dragged all around town like a side of beef for teen boys to gawk and laugh at while they train their cell phones on her defenseless, naked body—where high school football players post their depraved pictures and cellphone flicks all across the internet, as if the sexual abuse of a young girl is all the rage, like Gangnam Style or the Harlem Shake or some stupid meowing cat videos on YouTube.
Steubenville, Ohio, also is where grown ups who should know better ban together to slut shame rape victims and derail criminal investigations into serious crimes against their young womenfolk and get all ass backward defiant when an entire nation trains a collective, "Yo, what the fuck?" on townspeople who weep and cry for and defend the depravity of their boys, at the expense of its girls.
And now, as if it just wasn't satisfied that it dragged the town's name far enough into the muck of rape culture and football jock tomfoolery, the Steubenville school board heaped a barrel of crude oil on its mess by making the collective decision to extend by two years (!) the contract of Steubenville High's football coach, Reno Saccoccia. That would be the same coach who is being investigated by a grand jury next week on charges he and others may have failed to report the rape, as Saccoccia is legally required to do, and then may have tried to hamper the investigation through threats and intimidation. Convicted team quarterback Trent Mays' text messages make it crystal that Coach Sac was all up in it: "I got Reno," Mays bragged in his now-infamous messages after he was accused of being one of two ringleaders in their classmate's rape. "He tok care of it and shit ain't gonna happen, even if they did take it to court. Like he was joking about it so I'm not worried."
Clearly, neither is the Steubenville School Board. But the parents of Steubenville's girls certainly should be worried. And mortified. Because their school's leaders sent a clear and resounding message: this coach and the football team is more important than their daughters' flesh.
Frankly, I'm absolutely disgusted. I mean, when my stepson came to live with us here in Georgia, I became a football mom—not just one who sat under the Friday Night lights because I had to, but a football mom who learned to love the game and the kids who played it. For years, I had a house full of football players who parked their feet under my dinner table, played video games on my TV, challenged each other to sweaty basketball duels on my driveway and slept on my couch. I'd like to think that I played a hand in molding some of those boys into men during the time they spent in our home; they watched me, talked to me, asked me questions, listened to the lessons I had to impart on schoolwork and commitment to doing well and, of course, how to interact with, date and respect the opposite sex.
I could not image that those boys, partially in my care between ages 14 and 16—just when boys are learning how to be principled, strong, responsible, compassionate men—would be anywhere near a coach who would encourage his players to show such a massive disregard for humanity. For what? A few stupid wins on the football field that, 10 years from now, no one will remember?
I'll tell you what we all should make a point of remembering what's important: in giving Steubenville High football coach Reno Saccoccia another two years to coach teen boys, Steubenville's  school board sent the sickening message about their callous disregard for all of our children—the girls and the boys. And that's the shame of it all. If you agree, join more than 135,000 others who've signed this Change.org petition calling for Coach Sac's immediate removal.
RELATED POSTS:
1. Melissa Harris-Perry To 16-Year-Old Steubenville Rape Victim: I Believe You (Video)
2. Steubenville, Ohio Rape Case Shows Teen Cruelty Unleashed by Social Media
3. Little Girl Loved: A Letter For the Cleveland, Texas Child From a Black Father Who Cares
4. Gang Rape in Texas: When Will We Stop Sacrificing Girls In Defense of Black Boys?
5. A Valentine's Day Dance With A Purpose: Helping To End Violence Against Women
Mom. NY Times bestselling author. Pop culture ninja. Unapologetic lover of shoes, bacon and babies. Nice with the verbs. Founder of the top black parenting website, MyBrownBaby.