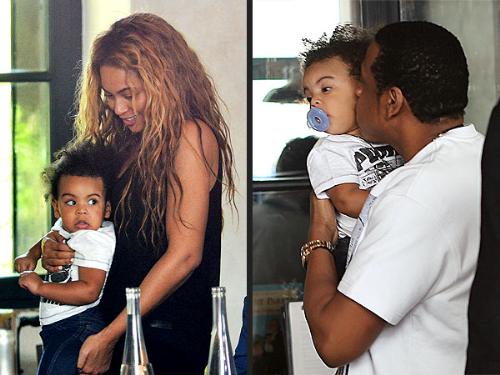 Four MyBrownBaby words about Blue Ivy's hair: Leave. That. Baby. Alone.
I say this because after more than a year of everyone begging to see Beyonce and Jay-Z's daughter's face, they finally give us a full-on look at her smoochy cheeks and those big ol' doe eyes and the most kissable, juicy baby lips, like, ever, and the innanets goes total bat crap and does what? Makes fun of a 1-year-old's black girl's hair.
As if we didn't just finish having this same stupid conversation about letting black girl hair be after folk tore Olympic gold medalist Gabby Douglas a new one for having a less-than-perfect coif while she was busy performing the historic gym routine that made her an official American hero.
A few examples of the tomfoolery that invaded Twitter timelines across the land:
"Blue Ivy would be so cute if they just combed her hair."

"When will she do Blue Ivy's hair?"

"I think Blue Ivy is so cute…they just need to do her hair. All that money but that baby looking like she popped out ShaNaeNae pum not Beys."
Seriously, people? Seriously?
Dig it: Blue Ivy is a 1-year-old.
Her hair is still uneven and finding its texture and full of wild baby curls because… she's 1.
There is no reason to load her hair up with braids and twists.
Bows and barrettes will do nothing more than break off her hair.
She is not ready for a weave or a fall or extensions or clip-ons or Janet Jackson-circa-Poetic Justice dookey braids.
She. Is. A. One-year-old.
There will be no shortage of days when Blue Ivy's mama and grandmama and auntie Solange will pull her hair into some cute little style—something cute and sweet and perfect for those beautiful curls. There will be no shortage of days, either, when Blue Ivy will stand in the mirror snatching her own hair into all kinds of styles, inspired, no doubt, by those she sees on her beautiful mama and grandmama and auntie. There is no need for Beyonce to rush things, especially just because a bunch of losers—no doubt, many of them so improperly snatched they have nary an edge or kitchen to speak of—are acting the fool on Twitter, ignorantly suggesting that something is wrong with a 1-year-old child's hair.
Seriously, y'all—come on.
RELATED POSTS:
1. The Joys (And Pains!) Of Kinky Black Girl Hair
2. The Attack Against Black Girl Beauty
3. A Beautiful Black Girl Finally Says, "I Love My Hair!" 
4. Learning How To Care For Black Baby Hair
5. WTF: Mom Straightens 4-Month-Old Black Baby's Hair—She Is Decidedly NOT Happy Her Girl Is Nappy
Mom. NY Times bestselling author. Pop culture ninja. Unapologetic lover of shoes, bacon and babies. Nice with the verbs. Founder of the top black parenting website, MyBrownBaby.