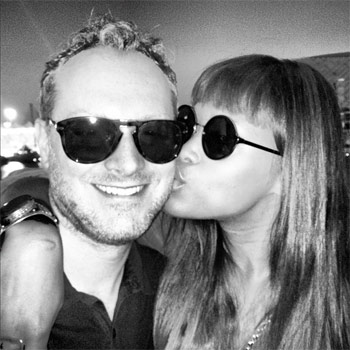 Now I love Eve, the pitbull in a skirt-turned-"it" girl on the Hollywood scene, and her relationship with British entrepreneur and race car driver Maximillion Cooper is beautiful. But her thoughts about biracial babies and especially her childrearing philosophy has me cocking an eyebrow: Eve says she plans to raise her kids to be "colorblind."
Eve made the revelation in Vibe Vixen, in an interview to promote Lip Lock, her new album dropping May 14:
I want them to be colorblind, but I do want them to understand both sides of themselves. I'm a black woman and I love being a black woman. And I think my child should know that black part of themselves. But obviously at the same time, their father would be white and I would want them to know that side of themselves. And British! That's a whole other situation (laughs). But in doing that, I think they can be colorblind. I don't want them to see color. I never did. I grew up in the hood and my mother was very good at it not being a black thing, even though I grew up around all black people. I want them to want to know everything about all kinds of races. And hopefully they will.
*Deep sigh* I get it: Eve is no longer a stripper. She's no longer hunched over a motorcycle in leather catsuits, her panther paw breast tattoos announcing her cleavage. She's not Harlem Shaking with her Ruff Ryders crew or pounding the pavement in her old Philadelphia 'hood. She's spending time in London. A lot of it. She's fallen for a white British dude. Hard. And she's living the life of a star who can remove herself from the bondage of race and all the foolish, illogical, foul things that come with it because, well, she's breathing the rarified air of celebrity. Sometimes, that air does a fine job of helping you forget…
Forget that here in America, black families make, on average, 1/3 less than white families, regardless of education and background…
Forget that in our parents' lifetime, Jim Crow was law, black bodies were swinging and today, our country is still rife with segregated neighborhoods and schools and businesses and churches…
Forget that as we black and brown folk move throughout our communities, we are still followed by suspicious eyes and met with a general lack of acceptance from those who do not look like us, until we disprove their suspicions…
Forget that black boys are getting stopped and frisked for no other reason than the brown on their faces, and shot for wearing hoodies and listening to their music too loud…
Forget that black girls are being judged not by our character, but the color of our skin, the size of our asses and the latest episode of Love and Hip Hop Atlanta, and being paid 62 cents to a white man's dollar and being denied basic, simple stuff like healthy food options and quality healthcare and decent school choices for our babies…
Colorblind? In America? For real?
The veneer of money and celebrity means Eve doesn't have to look in the eye of the hotel receptionist doubting she has a reservation…
She doesn't have to worry about the cab driver who won't stop to pick her up and drive her to Brooklyn or Harlem or the Southside of Chicago or the grimy parts of Philly…
She doesn't have to fool with the lady in the high-end boutique and that stupid smirk that says, "Yeah, you know you can't afford that dress."
She won't ever have to hear the private school admissions officer talk about how they don't have any financial aid, even though she never once mentioned she might need it…
Wait, Eve's never parented a black child. So this is all kind of theory until somebody says something sideways to or about her babies, who, if their mama has their way, will be delightfully blind while the rest of the world harps on that brown in their skin and that kink in their hair and their African American rapper mom from Philly who made babies with the white guy. That shit is inevitable.
I love that the rapper/actress wants her children, who may be biracial, to know and accept every bit of themselves—both their African American and white British selves. It's beautiful that she doesn't want them to harp on race. What I need her to know, though, is that the rest of us regular people who breathe regular air and live regular lives can not afford to be blind. Or to raise our children to be deaf, dumb and blind to the realities. And neither should her babies, if she does ever become a mother. As I wrote in an open letter to a white mom in a 2011 post, Why White Parents Should Teach Their Children About Race:
The truth is I don't have the luxury of walking into the room and having my skin color go unnoticed. I don't have the luxury of applying for a job and having it go unnoticed. I don't have the luxury of going to a restaurant or shopping in a store or driving in a well-to-do neighborhood—even my own—and have people see my forehead or the color of my hair or the hue of my eyes instead of my skin. The same goes for my man and my hulking, football playing son and my two chocolate girlpies and my 76-year-old daddy, who grew up in the segregated South, and my in-laws, who live in a mostly-white neighborhood where their son is the only black child in the class and their other son, a sweet 12-year-old kid who couldn't and wouldn't hurt a fly and loves pretty much anyone he comes in contact with, was called the "N" word for nothing more than that his skin is brown. This is the American way.

And seeing as it can't be hidden and I've worked so hard to love my brown skin despite all of the negative storylines/assumptions attached to it, the last thing I and oh so many more who look like me want is to have someone say she doesn't "see" it. I won't speak for all African Americans because we are not a monolith. I will, however, say that a large part of who I am and what I love about myself is rooted to my race and the culture connected to it; my skin is no less a part of me than my limbs, my breath—my heart. I know for sure that I am not alone in my thinking on this. It does not define me, but this brown skin has helped shape me in immeasurable ways. I can say the same is true for my babies, who, even as they are being encouraged not to dwell on color, are being taught that color and culture is important—a part of the myriad of things that makes each of us special and different and beautifully human.
That, Eve, is worth teaching the babies, too. Trust.

RELATED POSTS:
1. Black & Proud: How I Teach My Children to Love Their African-American Heritage
2. Study: Arming Your Children With Race Pride Will Boost Their School Performance
3. They'll Wear The Armor: Guarding My Babies From The "N" Word
4. Black Children and Black History: The Importance Of Teaching Our Kids the Complexity Of Us
Mom. NY Times bestselling author. Pop culture ninja. Unapologetic lover of shoes, bacon and babies. Nice with the verbs. Founder of the top black parenting website, MyBrownBaby.