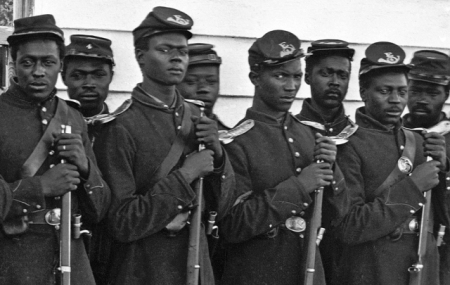 Well yes, there will be barbecues galore and lots of beer passed about and some kick-ass sales at the mall and everyone will enjoy their long holiday weekend. That's what happens on Memorial Day. But on this day, in the din of mindless eating and drinking and shopping, perhaps we should take a moment—a solemn beat—to remember exactly what Memorial Day is supposed to be: a solemn, sacred day of observance for those who fell in war.
This, after all, is what freed slaves intended when they gathered in Charleston, South Carolina on May 1, 1865, to commemorate the death of Union soldiers, the end of the American Civil War, their own emancipation and the many slaves and new freedmen who died during and after the war. Some 10,000 mostly black people—3,000 of them children who were students in then-newly-created freedmen's schools, plus black preachers, mutual aid societies, Union troops and white northern missionaries—marched down Charleston's main street to remember and thank the fallen and take their place as newly recognized citizens of the United States of America.
Wait—what? You didn't know? Yes, honey: Memorial Day was created by black folk—freed slaves. Three years later, General John Logan issued a special order that May 30, 1868 be observed as Decoration Day—a day set aside "for the purpose of strewing with flowers or otherwise decorating the graves of comrades who died in defense of their country during the late rebellion, and whose bodies now lie in almost every city, village, and hamlet church-yard in the land." By the early 20th Century, Decoration Day became a bonafide national holiday, celebrating not just those who died in and as a result of the Civil War, but for all those who gave their lives on behalf of our country. 
I don't know about you all, but knowing the origins of Memorial Day, nee Decorating Day, makes the day all the more incredible. And so today, I pay homage to the fallen Civil War soldiers, slaves and freedmen, the freed slaves who honored them, and the many men and women who died defending this, our great country. Happy Memorial Day.
Read more about the first Memorial Day, led by freed slaves, here.

RELATED POSTS:
1. Black Children and Black History: The Importance Of Teaching Our Kids the Complexity Of Us
2. Celebrating Black History Month All Day, Every Day
3. Black Gold: In Praise Of Esperanza Spalding's Radio Music Society and Its Focus On Black Children
4. Why White Parents Should Teach Their Children About Race
5. Black & Proud: How I Teach My Children to Love Their African-American Heritage
Mom. NY Times bestselling author. Pop culture ninja. Unapologetic lover of shoes, bacon and babies. Nice with the verbs. Founder of the top black parenting website, MyBrownBaby.