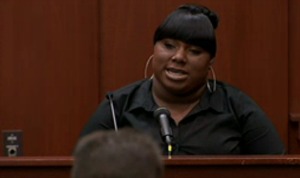 By NICK CHILES
I had a Kennedy-Nixon 1960 debate moment as I monitored the George Zimmerman murder trial on Wednesday. After reading the published online reports on the testimony of Trayvon Martin's friend Rachel Jeantel, who was speaking on the phone to Trayvon just before Zimmerman killed him, I got the impression that the 19-year-old Jeantel had delivered a legal slam dunk, offering irrefutable testimony that Zimmerman was stalking Martin that night and was clearly the aggressor in the confrontation—putting huge holes in Zimmerman's claim of self-defense. But then I ventured onto social media and started reading commentary from black folks on Jeantel's performance. Across the web, people were tearing into this teenager, saying she was ill-prepared, inarticulate, attitudinal and downright awful.
It was similar to the vastly divergent impressions television viewers and radio listeners got of the first Kennedy-Nixon debate, the first televised presidential debate in history—with folks listening on the radio thinking Nixon had won the debate while folks watching a sweaty, pale and uncomfortable-looking Nixon (who refused make-up) on television thinking Kennedy had won.
I went back and watched some of the footage of Jeantel's testimony. I could see why some observers might be disturbed that the teen wasn't able to express herself more clearly. At times she was barely audible, she didn't always use standard English and she sometimes didn't seem to understand what the lawyer was asking her. It can be painful for us to see inarticulate black folks propped up on a national stage, speaking to a mixed audience with an unpolished tongue—particularly when words like "creepy-ass cracker" and "nigga" are freely tossed into the mix, words that Jeantel told the jury that Trayvon used to describe Zimmerman to her.
It reminds me of the way my parents described their pain and cringing embarrassment whenever boxing great Joe Louis was being interviewed on television and he would give the English language a vicious beating. We have a desperate need to want to always put our best selves forward. If you are in a position representing the whole of black America—and let's face it, any black person being covered on a national stage still represents each of us, as much as it hurts us to admit it in 2013—every syllable you utter is going to be vigorously scrutinized. With social media, the scrutiny is going to be magnified like an electron microscope. [Exhibits A, B and C: Charles Ramsey, Sweet Brown and Antoine Dodson]
I understand all of that. But let's not take this thing too far.
Rachel Jeantel is a teenager, a 19-year-old girl who told the world what she heard that fateful February night on the phone with her longtime friend Trayvon. From the news reports produced by the mainstream media, you got the impression that Jeantel was genuine and believable. Of course reporters from outlets like the New York Times, Miami Herald and the AP are not going to feel the need to describe Rachel's attitude or overuse of black English vernacular, but they will feel compelled to describe the effectiveness of her testimony. And I saw them use words like "transfixed" to describe the all-female, nearly all-white jury's reaction to what Jeantel was saying. Perhaps if the prosecutors had done too much coaching of their star witness, her genuineness would not have shone through.
I also saw incredibly mean things said about her looks on social media, even seeing her described as "Precious"—referring to the movie character brought to life by Gabby Sidibe, who was nominated for an Academy Award for her portrayal of the troubled overweight teen. Disturbingly, this has become the go-to moniker for overweight, dark-skinned girls—aided by rapper Kanye West, who leveled that scarily ignorant line in his song "Mercy."
Plus my b*tch, make your b*tch look like Precious
Jeantel had to live through a close friend being murdered, watching his killer walk free for far too long, then sitting in front of the world and recounting the painful night with an intimidating older white man directing questions at her while she's clearly scared out of her mind.
Now, on top of all that, she has to endure some assholes critiquing her looks?
Really, people? Grow the hell up.
Rachel may not have been as polished on the stand as an actress on "Law and Order," but from all indications she was effective. She was real. She was a 19-year-old speaking her mind, telling the truth. And that's what she was supposed to do.
RELATED POSTS:
1. A Year Later, Trayvon Martin Stays Lodged in the Psyche of Black Parents
2. Teenager Killed in Florida by Neighborhood Watch Brings Terror To My Heart
3. Another Black Boy, Another Senseless Murder When Will It Stop?
Nick Chiles is a Pulitzer Prize-winning journalist and a New York Times bestselling author of 12 books, including the upcoming "The Rejected Stone: Al Sharpton and the Path To American Leadership," which he co-authored with Al Sharpton.