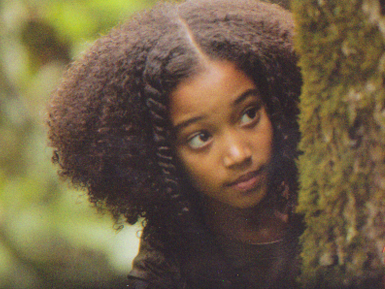 With the vicious smear campaign launched against Trayvon Martin, the savage beating death of an Iraqi-American mother of five, killed in her own home by someone who left a note labeling her a "terrorist" and demanding she "go home," and repeated assaults by anonymous cowards leaving hateful, obscenity-laced comments on MyBrownBaby posts, I really wasn't ready to read, much less post, about the racist rants "fans" of the hit film, "The Hunger Games," spread all over Twitter earlier this week after they found out two of the main characters are black.
Nevermind that author Suzanne Collins' trilogy clearly describes characters Rue and Thresh as having "dark brown skin"; apparently, the very sight of the adorable Amandla Stenberg as Rue, the stunning Dayo Okeniyl as Thresh and the deliciously beautiful Lenny Kravitz as Cinna (whose skin color is not described in the book but is clearly played by a black man in the film) inspired these hate-filled diatribes, spotted by the Tumblr blog, Hunger Game Tweets:
Deep deep DEEP sigh. This ish right here? This ish right here? Made my damn head numb.
So now the mere sight of brown skin, even in a damn movie, incites people to show their ugly hearts? To publicly express absolute disgust with people of color? To so callously and cavalierly say, out loud and for public record on the internet, how much they hate human life if it comes wrapped in skin that isn't white like theirs?
I can't.
But Jen Wang of the blog Degrasian, sure did in her brilliant post, "Where The Killing Of A Fictional Black Child Exposes How We Feel About The Killing Of A Real Black Child. In it, Jen Wang does an incredible job linking the sickening sentiments from the Hunger Games Tweeters to the increasingly nasty move by some white Americans to besmirch the reputation and memory of Trayvon Martin by painting him as a drug dealing, rule-breaking, sass-talking n*gger who got what he deserved when George Zimmerman shot and killed him last month. Jen writes:
What I've been stewing over for the last few weeks is exactly that, that there's a sickening bottom line in this country, and it is simply that certain people's lives are valued less than others. I don't know how we continue as a society knowing this. Because a society where mothers of black boys have to worry that when their children run out for candy, they might never come back–that society is broken. A society where the Muslim mother of five children could be beaten to death in her own bed where her killer left a note that reads "go back to your country, you terrorist" is a society that demands to be fixed. Every piece of legislation that criminalizes a person's skin color–whether with regard to immigration or homeland security or law enforcement–needs to be challenged. Every cultural message that says one race is "less than" another needs to be checked. Is it a movie we're watching about a dystopia that doesn't give a shit about its disenfranchised or are we living it? The line for me has become increasingly blurred.
For me, the lines have become quite clear. Shoot—been clear: America has gone stone cold mad. I promise you, all of this racial craziness, ramped up shortly after the nomination of Barack Obama as the Democratic candidate in the 2008 presidential election and capped off by the racist Hunger Games tweets, have me feeling like someone's been smashing cymbals in my head 24/7 for four years straight. Is it me, or does it feel like America is just one bad incident away from acting out a country-wide version of the riot scene in Spike Lee's Do the Right Thing? Of course, this is not what I want. But I fear that this is what it is.
RELATED POSTS:
1. Trayvon Martin, George Zimmerman, Black Friends & White Privilege
2. Teenager Killed in Florida by Neighborhood Watch Brings Terror To My Heart
3. Neighbors Gone Wild
4. Evil Black Men
Mom. NY Times bestselling author. Pop culture ninja. Unapologetic lover of shoes, bacon and babies. Nice with the verbs. Founder of the top black parenting website, MyBrownBaby.