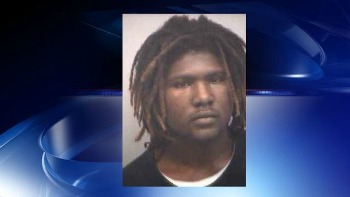 By NICK CHILES
There are some stories that simply take your breath away by revealing the sheer outrageousness of the lives some of us lead. This is one of those stories. (Cue "Law & Order" two-note intro: Bum-Bummm).
Out of Palmetto, Georgia, comes the tale of Ebony Daniel, 34, and her boyfriend Charlie Martin, 22. Ebony and Charlie (pictured above—we're guessing Ebony never had the pleasure of posing for a mug shot) are currently on the run, trying to evade Georgia law enforcement. Why? Because they allowed Ebony's 13-month-old grandson to ingest cocaine while he was in their care.
Yes, 34-year-old Ebony is a grandmother. Her boyfriend is 22 (how many grandmothers can brag about being the one to bring her boyfriend out for his first legal drink?). Ebony's daughter—who police didn't identify because she is a minor—is 17 and not under suspicion, though she is described as a witness in the case. But Ebony and Charlie are under serious suspicion, facing charges of possession of cocaine, cruelty to children in the first degree and reckless conduct, according to Sgt. Lee Gragg of the Palmetto Police Department.
The 13-month-old child was brought into Piedmont Newnan Hospital on Friday afternoon by his mother. When the hospital staffers found out that he had swallowed cocaine, they called in the police and they transported the child to Children's Healthcare of Atlanta at Egleston, where he was admitted to the hospital for observation. At Egleston, he did indeed test positive for cocaine.
That night Palmetto police went to the boy's home with a search warrant and "evidence was found and collected at the residence," Gragg said.
The boy is doing well enough now that he was released from the hospital, though they are still awaiting toxicology reports to determine how much cocaine he ingested.
Oh, there are so many thoughts that race through the mind in this story. At first glance, you think it can't be real. It sounds like an episode of "The Boondocks," something Aaron McGruder concocted in his wicked little head to highlight the myriad ways that black people need to get their sh*t together. But no, if only it were fiction. This really happened, yo. All of it. And there's a toddler somewhere with the cocaine in his blood stream to prove it.
Of course there are many teen moms out there who raise wonderful children and everyone involved go on to lead wonderful lives. It can happen. But I'm going to bet that craziness like this is a bit more likely to happen. It all started with Ebony, who had her own daughter when she was 17. (Actually we don't know how old Ebony's mother was, so it could have started earlier.) Baby girl grows up and has a child of her own at 16. The numbers are going in the wrong direction here. Actually, the word "wrong" is a good way to describe everything in this story. Wrong, wrong, wrong.
Grandmas are supposed to be safe havens for little ones. We think you have some work to do, Nana Ebony.
RELATED POSTS:
1. Kansas City Mom Arrested For Starving and Locking 32 lb, 10-Year-Old Child In Closet For Years
2. The 6-Year-Old Who Can Make Your Booty Pop—And the Adults Who Should Be Carted Away For This Madness
3. Mom Duct Tapes 2-Year-Old For Acting Like… a 2-Year-Old
Mom. NY Times bestselling author. Pop culture ninja. Unapologetic lover of shoes, bacon and babies. Nice with the verbs. Founder of the top black parenting website, MyBrownBaby.