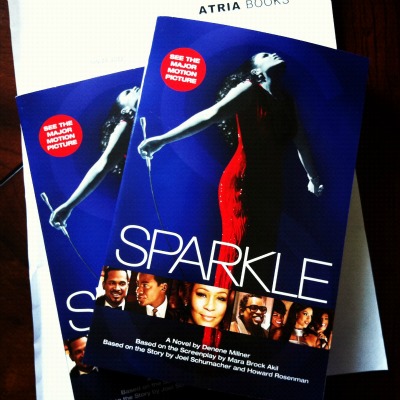 Check out what was sitting oh so pretty in my mailbox yesterday: Author copies of my new book, Sparkle, the novelization of the upcoming movie of the same name, starring Whitney Houston in her final film role and American Idol winner Jordin Sparks in her big screen debut. Sparkle: A Novel
 is—insert funky Questlove drumroll, please—my 20th book!
*insert image of Denene snaking, Cabbage Patching and wopping it all the way out then hitting my B-girl stance*
I promise you: seeing my name on a book cover never, ever gets old. My heart still skips a beat and then flutters as hard as it did when I saw my first, The Sistahs Rules: Secrets For Meeting, Getting and Keeping a Good Black Man, back in 1997, and when I first saw my name at No. 1 on the New York Times bestseller's list, next to the Steve Harvey relationship book, Act Like A Lady, Think Like A Man, and when I sat with my entire family in the movie theater on Christmas day and saw Beyonce, Jennifer Hudson, Anika Noni Rose and Jamie Foxx breathe life into the script I used to write Dreamgirls, the novelization of the Academy Award-winning movie. Seeing my byline is testament to the gift God gave me—a gift that I honor every day by putting finger to keypad, pen to paper, thought to mind, ideas to fruition.
Truly, I am blessed.
I got the contract for Sparkle back in April, after a brief conversation with Howard Rosenman, who produced and, along with filmmaker Joel Schumaker, wrote the first Sparkle, starring Irene Cara and Lonette McKee. We quickly bonded over our Long Island roots and love for great soul music in general and Whitney Houston in particular and, by the end of our phone call, he graciously agreed to hire me to turn the screenplay for the updated version of Sparkle, penned by the brilliant Mara Brock Akil, into a novel. By the time we settled on the particulars—with my supersplenderific awesometastic agent Victoria Sanders steering that bad boy like a Mario Andretti in the Indy 500—I had just shy of three weeks to read the script, imagine a story that stayed true to the new movie while paying homage to the first, and filled in the white spaces that didn't make it into Mara's colorful Sparkle narrative.
And I don't mind saying, I kinda kicked booty on this one. The story is fast-moving, heartfelt, fun, tragic, intriguing, sweet, saucy and, if I say so myself, kinda awesome. Mara's terrific script and Howard's amazing story made this so. Bonus: the belly of the book has beautiful color stills from the movie—pictures of the ever-beautiful Whitney Houston, the lovely Jordin Sparks and, good God, yes, the chocolately goodness that is Derek Luke, just to name a few. But don't just take my word for it: Sparkle: A Novel
 hits bookstores just a few days before the August 10th opening weekend for Sparkle, the movie. Cop the book (you can pre-order it, yes you can!) and make sure you have your tooshes in a theater seat when Sparkle hits bookshelves and the theater respectively. I'd be forever grateful. And you'll love them both!
RELATED POSTS:
1. "Act Like A Lady, Think Like A Man" Debuts At #1 On The New York Times Best Seller's List
2. Shameless MyBrownBaby Self-Promotion: "Never Make the Same Mistake Twice."
3. We're Nice With the Verbs: Mari and Her Mommy Get Published.
4. Sparkle Trailer: A Sneak Peek At Whitney Houston's Final Role (VIDEO)
Mom. NY Times bestselling author. Pop culture ninja. Unapologetic lover of shoes, bacon and babies. Nice with the verbs. Founder of the top black parenting website, MyBrownBaby.