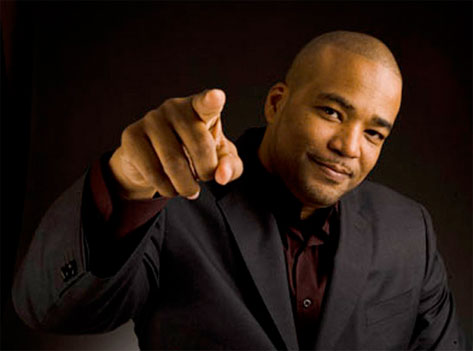 For those of us who love Hip Hop, news of the death of record executive Chris Lighty, the architect of some of the most profound and lasting voices in hip hop, is shocking. Devastating. I've always been a fan of the artists with whom he'd been aligned (Boogie Down Productions, The Native Tongues) as well as his business acumen—he pioneered the mainstreaming of rappers when he negotiated major brand deals for LL Cool J, Busta Rhymes, Missy Elliott, A Tribe Called Quest and, most notably, 50 Cent's $100 million deal with Vitamin Water. While I did not know him personally, many of my dear friends, creative types with whom I worked back when Hip Hop was pure and everything, treasured Chris not just as a hip hop entrepreneur, but as a close, personal friend. Danyel Smith wrote an incredibly moving piece for NPR that sums up just who he was—and his legacy as an artist, executive and confidant:
Lighty, like so many black men, was not given the luxury of being understood as a multifaceted being. He has been called, I'm sure more times than I've heard myself, a manipulative son-of-a-b——. He had a knack for getting money. He could be intense, and surly. I recall Mariah Carey speaking of him as one of the few gentlemen she knew. The ladies did love Lighty. His charm — man! — even (perhaps especially) for business meetings, he could turn it on. In a life filled with hotel lobbies, backstages and restaurants of the moment, Lighty was always reading situations. Anticipating. Strategizing. And then dinner was on him. If you were on his mental list of people whose calls he'd return, he was faithful and frank. To say that he remained streetwise even as he moved in rooms where the discussions were about the global branding of superstars, of big movies and world tours, is an understatement. The Bronx River projects die hard. People may say they're "still that same person" from the block, but Chris truly was. His Armani suit life was still ragged at the edges with wickedness. A gentleman of course — and then of course not.
Fly with the angels, Chris Lighty. Read the rest of Danyel's moving tribute at NPR.
And other MyBrownBaby Fresh Links you should check out:
1. If you care anything about the upcoming presidential election, the madness that was the RNC convention and Mitt Romney's keynote speech—and you should—Ta-Nehisi Coates' "Fear of a Black President" should be required reading. For er'body. (The Atlantic)
2. And then there was that bumbling and bizarre Clint Eastwood speech at the RNC convention. Here's a great summary on what it means for the star's image (Washington Post).
3. And then there was Paul Ryan: Even freaking Fox News had to call bullsh*t on his speech of lies (Fox)
4. Are Working Mothers Making Their Children Obese? (Clutch)
5.  And, even as she grapples with her own illness, more devastating news for Robin Roberts: Her mom, Lucimarian, passed away. (HuffPo)
6. And Akiba Solomon on why Lupe Fiasco's "B*tch Bad" sho 'nuff gets her respect. *Sigh: I love Akiba. I'm a total stan.* (Colorlines)
7. Punk princesses rocked out in their cool, eclectic style at Brooklyn's annual AfroPunk Festival. (Essence.com)
8. New website find! You've got to swing by Georgia, an homage to all things beauty and fashion. It's delicious. And there are adorable first-person beauty regimens for tweens and teens—perfect for my girlpies. #iHeart. (Georgia)
Have a fab Labor Day weekend—full of good barbecue, family and, somewhere in there, peace and quiet. Love on someone. Life is too short not too.
Mom. NY Times bestselling author. Pop culture ninja. Unapologetic lover of shoes, bacon and babies. Nice with the verbs. Founder of the top black parenting website, MyBrownBaby.