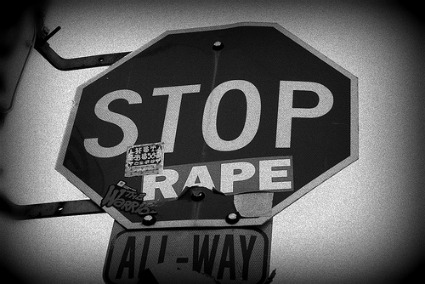 Two years after 20 men and boys were charged in the repeated gang rape of an 11-year-old girl in Cleveland, Texas, the child, whom we adopted here at MyBrownBaby as Little Girl Loved, faced one of her accusers yesterday, tearfully watching a video of one of her assaults as she told a judge and jury about how several men and boys took turns sexually assaulting her while recording it all with their cell phones.
But even as the girl, who testified under a pseudonym, bravely told her story while video and cell phone pictures of her assaults were flashed for a roomful of strangers to see, Eric McGowen, 20, the first of 14 adults to face trial in the child's sexual assault during three months in 2010, punked all the way out and skipped out of the courtroom during a break—becoming a fugitive from his own trial. Judge Mark Morefield issued a bench warrant for his arrest, raised his $35,00 bail to $250,000 and ruled that McGowen's trial would continue while police hunt him down.
So far, eight of the 20 defendants accused in the case have pleaded guilty; two—Isaiah Ross, 22, and Marcus Porchia, 28, each received 15-year prison terms, and the others, all juveniles, each received suspended seven-year prison terms. Both Ross and Porchia, along with one of the juveniles who has since turned 18, also testified yesterday, with Ross telling jurors he witnessed McGowen raping the girl with a beer bottle and Porchia testifying that he saw others rape the girl, but not McGowen.
News reports say that the girl, now 13, seemed calm for most of the roughly 1½ hours she testified about two specific incidents in which she was raped. She said that in the October 2010 assault, McGowen brought her into what was described as the "baby room" in a Cleveland house, and, along with several other men, took turns raping her. She also described another rape that November that started in a different Cleveland home and continued at a nearby abandoned trailer.
As far as I can tell, none of the idiots who tried to blame the then-11-year-old for her own gang rapes by saying she was fast, wore make-up, looked older than her age and had a mother who sucked and didn't keep proper reign over her kids have come forward to victim blame and shame the girl. Also, there don't appear to be any updates on whether the child and her family are still in dire straights, as MyBrownBaby reported back in April 2011:
It's been discovered… that her mother suffers from tumors on her brain that have gone untreated for a year because she doesn't have healthcare; that her father, a carpenter, has suffered severe depression since injuring his back and being put out of work last year; that the little girl is still being hidden in a foster care home while the town gnashes its teeth and implicates this 11-year-old child in her own rape; and that the family, poor and destitute, has been forced to uproot their other kids and move to an undisclosed location where they have no furniture and little money to survive.
Here's to hoping that the family is back together, that every last one of the men and boys involved gets their just due (and that the ringleader, McGowen, gets the prison house justice he's got coming to him)  and that, most importantly, that this little girl is getting the help she needs—therapy, support, love—to heal. I'm not quite sure how an 11-year-old child comes back from being raped by 20 men, but by God, I'm grateful that she had the strength to testify. That she's still standing.
RELATED POSTS:
1. Little Girl Loved: A Letter For the Cleveland, Texas Child From a Black Father Who Cares
2. Update On Little Girl Loved: The 11-Year-Old Gang Rape Survivor In Cleveland, Texas
3. Gang Rape in Texas: When Will We Stop Sacrificing Girls In Defense of Black Boys?
Mom. NY Times bestselling author. Pop culture ninja. Unapologetic lover of shoes, bacon and babies. Nice with the verbs. Founder of the top black parenting website, MyBrownBaby.