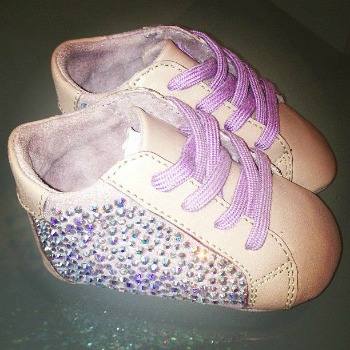 By NICK CHILES
I've had three little babies, so I certainly understand the desire to lavish as much as you can afford on your little ones.
I really do.
But I can't help but feel like the $800 sneakers that were designed for Blue Ivy Carter, the 8-month-old daughter of Beyonce and Jay-Z, is crossing the line.
Maybe I shouldn't talk, since I'm sure as a relative percentage of income, my wife has certainly spent the equivalent on my daughters when they were little ones as $800 sneakers would be in the Carter/Knowles household. Let's see, since they have a combined net worth of roughly $800 million, $800 sneakers would represent like one-millionth of one percent. Something like that. So if you compare that to my own exceedingly more modest household budget, it would still work out to about a penny. Seriously. Actually, less than a penny. So maybe I should shut up here.
But I guess this is about the principle of the thing. Aren't we still in a recession? Do these two care how these things look to us regular Joes and Josephines?
The sneakers were designed by Ruthie Davis, who posted the above picture of them on her Facebook page. This is what Davis said about the kicks, which are encrusted with $800 worth of amethyst Swarovski crystals, purple laces and immaculate stitching.
"Take a look at the Baby Ruthie's I made especially for Beyonce and Jay-Z's daughter Blue Ivy… SO Sweet, right?"
I'm just a dude, but to my dude-encrusted eyes, they don't even look that cute.
And when we dig a little further, we find out Blue Ivy's shoes may actually be a bargain. Apparently, Davis' line of bedazzled Pierce sneakers generally retail in the U.S. for around $1,898.
Yeah, you read that correctly. Clearly, people who spend nearly $2,000 on a pair of baby shoes live on a different planet than the rest of us. But we guess disgustingly rich people need to have SOMETHING to spend their money on, right? What else is there to do with $800 million than buy $800 sneakers for an 8-month-old who can't even walk yet?
What did you say, you could think of a few things? Yeah, me too.
To be fair to Jay and Bey, it's not clear whether the Carter family paid for the sneakers or whether the designer made them as a gift to the famous couple—and for the free publicity the crystal sneakers will engender. Have already engendered. Hey, I'm writing about them here, telling you all about Ruthie Davis. (And if you already knew about her because you already bought $2,000 sneakers for your kid, excuuuse me.)
But we shouldn't be surprised by all of this. After all, Jay-Z predicted this would happen. In fact, he even laid down a track about it, on the Rick Ross song, "3 Kings":
"Y'all should know by now, if you don't know/Millions on the wall in all my rooms/N–gas couldn't f–k with my daughter's room, N–gas couldn't walk in my daughter's socks. Banksy bitches, Basquiat!"
And this is what Jay told Oprah:
"I imagine I'll take things I learned from my mom and things I've learned from raising my nephews and apply that. Then at the end of the day, I just know I'll probably have the worst, spoiled little kid ever," Jay-Z said on "Oprah's Master Class" program.
I wrote recently about Nike designing sneakers for Lebron James that will retail for nearly $300 and how outrageous that was. I called them "a parent's nightmare." Now we find out about sneakers selling for $2,000. I guess, like everything else in life, it's all relative. The Ruthie Davis kicks make Lebron's joints look like something you'd find in the Clearance bin at Wal-Mart.
What do you think—should I send Lebron an apology?
RELATED POSTS:
1. Nike's New $270 LeBron Sneakers Are A Parent's Nightmare
2. A Dad's Plea: Let Our Little Girls Stay Little for As Long As We Can
Mom. NY Times bestselling author. Pop culture ninja. Unapologetic lover of shoes, bacon and babies. Nice with the verbs. Founder of the top black parenting website, MyBrownBaby.