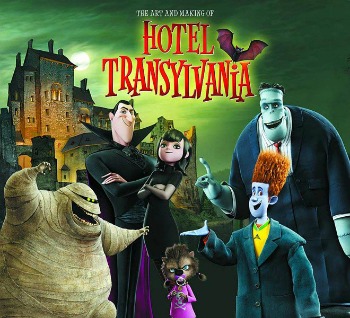 By MARI CHILES
Not many children would want to go see a movie about monsters in a dark movie theater unless they're scary movie fanatics and aren't afraid of many things. I admit I'm not a big fan of scary stuff either, but in the movie Hotel Transylvania, monsters shine rather than scare—and totally suck in us kids in a fun, hilarious way.
Hotel Transylvania is an extremely funny animated movie for children about Dracula, the famous vampire, who builds an amazing hotel for monsters so that they and his daughter, Mavis, can stay there and be safe from humans. But the problem is that Mavis wants to travel the world and see new things. Her father told her that when she turned 118—yes 118!—she could leave the hotel and explore the world. But her father has a hard time letting her go. Even worse: on the day of her big birthday party, when all of the world's most famous monsters are arriving to Hotel Transylvania to help Mavis celebrate her big milestone birthday, a human miraculously finds his way to the hotel for monsters—and into Mavis' heart. Now Dracula must find a way to keep this human away from Mavis, so that she won't fall in love with him or leave her dad and the place he's created to keep her safe.
This movie is hilarious and filled with characters that kids would be able to recognize, like the Mummy, Frankenstein, Big Foot, The Invisible Man, skeletons and, of course, vampires! There are also many famous voices playing the characters, like Adam Sandler as Dracula, Selena Gomez as Mavis, and Cee Lo Green, who plays the Mummy. This cast of voices, along with the cute plot and fun 3-D animation, makes a very good movie!
The movie is appropriate for children about 9 years and up. There were a few surprises and pop ups in the movie, so little kids might be a little freaked by Dracula roaring into their faces. But really, the movie wasn't scary at all. It was very funny, and the gentle, sweet demeanor of the monsters will take away the sting of the scariness we all associate with the world's most famous monsters.
Overall, "Hotel Transylvania" was funny and entertaining! There were great characters, and it was also a good coming-of-age movie. Basically anyone from about 9 years and up will love it. I know I did!
Mari Chiles, 13, is a MyBrownBaby contributor and youth culture critic.
RELATED POSTS:
Mom. NY Times bestselling author. Pop culture ninja. Unapologetic lover of shoes, bacon and babies. Nice with the verbs. Founder of the top black parenting website, MyBrownBaby.