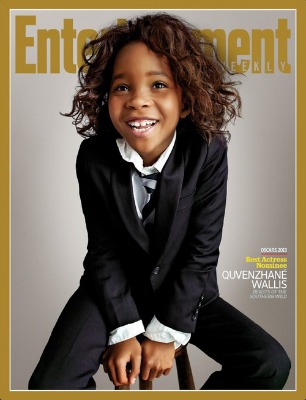 Beasts of the Southern Wild breakout star Quvenzhane Wallis, who, at nine, became the youngest ever to be nominated for a "Best Actress" Academy Award, brings that adorable smile and elementary school energy to the cover of Entertainment Weekly's Oscar issue—looking every bit as delicious as ever. Check out Clutch's 5 Reasons We Love Quvenzhane Wallis, as this brown baby star preps for her upcoming star turn in the upcoming flick, Twelve Years A Slave.
And other MyBrownBaby Fresh Links we were feeling this week:
1. New Mexico Bill Would Criminalize Abortions After Rape As 'Tampering With Evidence' (HuffPo) <– Seriously, WTF?
2. 30 Adoption Portraits in 30 Days (HuffPoParents)
3. Beyonce Feels More 'Sensual' After Having Blue Ivy Or Maybe Due To The Fact She Is Beyonce (Mommyish)
4. Obesity rates for black children are sky high, but the NAACP Joins Fight Against NYC's Soda Ban (AtlantaBlackStar)
5. Daddy's Baby, Too: Tips to ensure that both parents are sharing the (precious) load (Ebony.com)
6. Real Talk: Stop Making Michelle Obama Your Feminist Leader (Essence.com)
7. Ironically, the NRA used to support gun control — when the Black Panthers started packing. (TheRoot.com)
8. Mr. and Mrs. Huxtable Please Step-Aside, the Obamas Have Replaced You (BlackAndMarriedWithKids)
And, a little something to set off the weekend right. Sigh: I heart Justin Timberlake. And his new song, "Shirt and Tie." Is it me or are white singers the only people making soulful R&B music anymore? (Well, except for Bilal, Dwele, Jill and Erykah and them, who can't make albums fast enough for me.) I got questions. Anyway, press play. And have a great weekend!
Mom. NY Times bestselling author. Pop culture ninja. Unapologetic lover of shoes, bacon and babies. Nice with the verbs. Founder of the top black parenting website, MyBrownBaby.