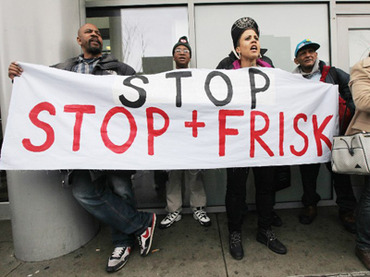 By NICK CHILES
New York City's controversial stop-and-frisk program was dealt a severe blow yesterday when a federal judge ruled that a portion of the program being used in the Bronx was an unconstitutional violation of the rights of city residents who are being stopped without probable cause.
The decision should have a transforming effect on a program that has been angrily attacked in New York by civil rights advocates, legal groups, community organizations and politicians for disproportionately targeting blacks and Latinos in the city. Judge Shira A. Scheindlin's 157-page ruling is especially harsh and costly for the city because the judge suggests that police officers are being improperly trained.
Christopher T. Dunn, a lawyer for the New York Civil Liberties Union, one of the groups representing the plaintiffs, told The New York Times, "If New York City has any sense, it will use this ruling as an opportunity to start a wholesale reform of stop and frisk."
New York City Police Commissioner Raymond W. Kelly defended the Bronx program in question, called Clean Halls, saying it gave "less prosperous" tenants of  Bronx residential buildings "a modicum of safety… Their landlords explicitly requested this extra level of protection."
"Today's decision unnecessarily interferes with the department's efforts to use all of the crime-fighting tools necessary to keep Clean Halls buildings safe and secure," he said.
New York City Mayor Michael Bloomberg has defended the program by saying it gets guns off the street, thus making minority neighborhoods safer.
This case, the first of three legal challenges to the stop-and-frisk program that Scheindlin will consider, specifically focused on a neighborhood of the Bronx where the landlords of private buildings volunteered to participate in the police department's Trespass Affidavit Program. Under the program police patrol the buildings and arrest trespassers.
But Scheindlin, of Federal District Court in Manhattan, said the program was unconstitutional because officers were routinely stopping people outside the buildings without reasonable suspicion that they were trespassing.
"While it may be difficult to say where, precisely, to draw the line between constitutional and unconstitutional police encounters, such a line exists, and the N.Y.P.D. has systematically crossed it when making trespass stops outside TAP buildings in the Bronx," the judge wrote in her decision.
She ordered the police "to cease performing trespass stops" outside the buildings unless officers have reasonable suspicion, a legal standard that means officers have to have more than just a hunch.
In a shocking report by the New York Civil Liberties Union, it was revealed that during the 10 years of the Bloomberg administration, the police have performed 4,356,927 stops, including 685,724 in 2011. Among African-American males ages 14 to 24, the number of stops in 2011 was greater than their total population in the city. In 2011, of the 685,724 people stopped by NYPD, 87 percent were either black or Latino.
And in 9 out of 10 stops, the person was neither arrested nor issued a summons.
In June, a teenager named Tyquan Brehon said that by the time he turned 18, he had been stopped and frisked more than 60 times. The collective experience was so psychologically damaging, Brehon explained, that he would purposely try to get suspended from school just to avoid contact with police.
Scheindlin called for a hearing to craft remedies to the issues she raised in her ruling. She said she will consider requiring the police department to create a policy "specifying the limited circumstances in which it is legally permissible to stop a person outside a TAP building on a suspicion of trespass." She also said the hearing would discuss revisions in the training of officers. During testimony in her courtroom, it was revealed that a training video used by the department actually misstates the law in instructing officers how to behave.
Source: Atlanta Black Star
RELATED POSTS:
1. NYPD Stop and Frisk Practice In Action: 16-Year-old Called A "F*cking Mutt," Threatened (VIDEO)
2. "Justifiable" Stop & Search Before Tyler Perry: One Man's Harrowing Story Of Racial Profiling
3. Teenager Killed in Florida by Neighborhood Watch Brings Terror To My Heart
4. Black Boy Swagger, Black Mom Fear
5.  Enough. (Don't Let Aiyana Jones Die In Vain)
Mom. NY Times bestselling author. Pop culture ninja. Unapologetic lover of shoes, bacon and babies. Nice with the verbs. Founder of the top black parenting website, MyBrownBaby.