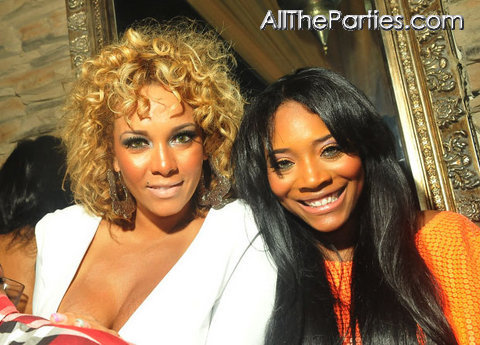 I know, I know—what in the world is MyBrownBaby doing talking about the juicy, gossipy, champagne glass-tossing, knock-down-drag-out VH1 reality show, "Love & Hip Hop," and its pregnant stars Kimbella Vanderhee and Yandy Smith? *cough* Clutch made me do it *cough*
LOL—JK, Clutch! I'm a huge fan of the site and writer Risa Dixon raised an interesting question about Kimbella and Yandy yesterday after noting that the reality stars, both anywhere from four to six months pregnant, were spotted clubbing recently at the New York City hotspot La Vie Lounge. In the Clutch piece, Dixon, who is seven months pregnant, asks, "Should the fact that the two are still club hopping while pregnant get the side eye or is it socially acceptable?"
Instantly, I was reminded of the scene in Tina Fey's Baby Mama, in which a fake-pregnant Amy Poehler slurps up random strangers' drinks and sends dance partners scattering when she does the pregnant belly dance. I was reminded, too, of this scene in Knocked Up, in which the hysterical Craig Robinson dresses down the pregnant main character and her hilarious older sister for trying to push past the velvet rope. For a tear-inducing laugh, check out the Knocked Up clip below [note: there's a LOT of cursing so if you're at work or around the babies, turn down the volume. Hilarity ensues at the 1:46 mark.]
I'm not gonna lie: I might give the side-eye if I saw a ginomously pregnant woman out at the club. But then I'd consider what it was like in the second trimester of my first pregnancy, when my belly started to really pop and I started realizing that my life and all the things that I'd done for fun as a young, childless woman were about to change. Vacations would be different. Friends would change. The way I ate, the way I dressed, the way I socialized, the things I thought important—with a baby, all of it would be… new.
I'm not saying that considering these things made me go buck wild. But there was a little part of me that thought, welp, you better get out whatever it is you gotta get out of your system now because once the baby comes, there's no turning back. I don't remember going to the club outside of work reasons, but then, I never was a big club person. But I did make a point of doing things that I loved—spending time with my girlfriends, having quiet dinners with my husband, doing a little traveling, enjoying being pampered by my parents. And when my baby came, I treasured those pre-baby moments with my friends, husband and parents because they did, ultimately, change.
So I'd keep the side-eye over the pregnant Kimbella and Yandy clubbing to myself. I mean, tossing back six shots of Ciroc might not be the best idea for a pregnant woman in the club. Sucking on a cigarette or standing around someone blowing cigarette and cigar smoke in your face would prove problematic. There might be some folks turned off by the pregnant lady dropping it like it's hot out on a crowded, smoky, sticky dance floor. But really, at the end of the day, if going to the club to enjoy the company of friends, good music and non-alcoholic drinks is the worst the two pregnant Love & Hip Hop stars can do, well, no side-eyes from me.
RELATED POSTS:
1. My Super Weird Pregnancy Craving
2. Baby Talk At Its Finest: Oh The Things They'll Say!
3. Beyonce Showing Off Belly Bump In "Oh Baby" Video = Total Cuteness
4. Here's To The Good Times: Missing the Baby Onboard
Mom. NY Times bestselling author. Pop culture ninja. Unapologetic lover of shoes, bacon and babies. Nice with the verbs. Founder of the top black parenting website, MyBrownBaby.