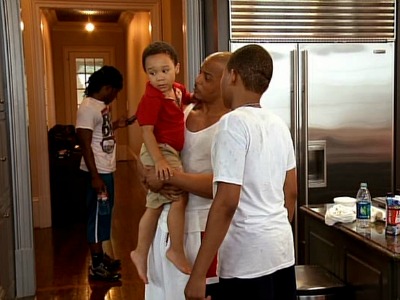 Let me just go on ahead and say it: I love me some T.I. Not in a groupie kinda way. I mean, he's cute and talented and that accent is killer and all, but it's his T.I. & Tiny: The Family Hustle reality show, and, specifically, the way he portrays black fatherhood, that has my heart all aflutter. I mean, any African American Southern man who exercises restraint and chooses not to skin the black off the behind of a 4-year-old who scrawls orange marker all over the treasured white family couch is pretty doggone all right in my book.
Let me explain.
In this season's debut episode, Major, the youngest of T.I.'s, nee Clifford Harris, Jr.'s, six babies, goes into the sacred, all-white living room in the Harris mansion—the room that kids are hardly allowed to look at, let alone walk, eat and play in—and totally has his way with the white couch. Like, in a graffiti circa 1984's Beat Street way with it.  Orange marker scribbles everywhere.
The child's grandmother tries to clean up the mess but warns the 4-year-old that he's in big trouble. B.I.G. Scared but determined to tell the truth about what he did, little man hunts down his father and confesses: "Come see what I did on the sofa," he says quietly.
After lots of "oooooh, you're in trouuuuble" warnings from his big brothers and a sorry attempt by Grandma and his 8-year-old brother, King, to hide the mess, T.I. finally eyes the offense and sends up several "Lawd, Jesus, ha' mercies."
And here is where it gets interesting. Instead of pulling out a belt, grabbing a wooden spoon or sending his child outside to pull  a fresh switch off one of those huge Southern trees out in the front yard, T.I. takes Major's hand and announces to everyone in the room that Major's going into time out.
Fall-outs and crying ensues, with the 4-year-old acting as if he's just been sentenced to life in prison, without parole, in solitary confinement at Guantanamo. T.I. later gives Major a sound talking-to, with some age-appropriate lessons on respecting property and, more importantly, T.I.'s cash.
I'm not sure if this uber sensible parenting approach was for T.V.'s sake—I mean, you can't skin a kid on camera, right?—or if this truly is T.I.'s parenting style. But I will say this: that the rapper didn't have to beat his child in order for him to be genuinely remorseful and apologetic for his actions spoke volumes—particularly for an audience that may be more inclined to hit than employ the use of time-outs.
I promise you this: as a parent who does not and never has spanked my kids, time-outs and talking to's and meaningful punishments have been effective discipline tools in our house with our daughters and son. I mean, I can remember how devastated Mari was when she got sent to the pokey and barred from crayons for a week after she tagged up half the playroom wall and the basement door with a glorious stick-figure family portrait, replete with clouds, a bright yellow sun, grass, trees, a tiny house and a picture of her pet fish. (I mean, what is it with kids and crayons/markers and walls? And really, what kind of babysitter lets all of that go down? I'll tell you—a nanny who's napping while the 3-year-old gets her Picasso on all throughout the basement. That babysitter was gone within the week.) In other words, I hit the kid where it hurt: by making her think about what she did and taking away something she loved. Mari never wrote on the walls again.
Now, I'm not sure what happened after the cameras stopped rolling at the Harris household, and I hope little Major got a bit more punishment than the talking-to he got for his marker transgressions. But I'm proud of T.I.—not only for the father he is, but the black dad image he chooses to portray on T.I. & Tiny: the Family Hustle. Watch video of the episode below.
Mom. NY Times bestselling author. Pop culture ninja. Unapologetic lover of shoes, bacon and babies. Nice with the verbs. Founder of the top black parenting website, MyBrownBaby.