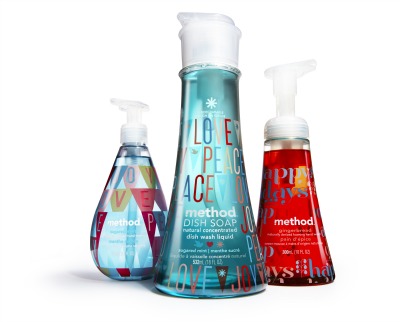 Maybe it's because I've been seeing Christmas trees and holiday ornaments in department and craft stores since before Halloween, or maybe it's the wicked deadlines that have been totally distracting me from getting my "Happy Birthday, Jesus" decorating/shopping/spirit on, but I just hadn't been feeling a lot like Christmas this year. Which is weird because, really, I usually have all my shopping done by early November and a clear ornamentation color scheme, dinner menu and Christmas Day plan of action no later than Dec. 1. Alas, this year, I've been a Christmas Slacker.
But then yesterday, I saw this video of DMX rockin' the dope Ruff Ryders beat while performing an all-the-way-live rendition of "Rudolph the Red-Nosed Reindeer," replete with his trademark "what!" and "c'mon" sprinkled throughout. And I cried when I heard Cee-Lo's new Christmas song, "Mary Did You Know," just before I added it to my Soul Christmas playlist on Spotify. And I cracked open a fresh Sugared Mint dish detergent from Method's new Sugar + Spice and Evergreen Nice Holiday Collection. And I got all caught up filling my new Method Holiday Happy Pinterest board with all kinds of delicious treats I would be all happy, happy, joy, joy to see in my Christmas stocking this year and, voila!, it's beginning to feel a lot like Christmas in the MyBrownBaby household!
Yes, when it comes to Christmas, you have to hit all of my senses to get me in the spirit—good music, cute gifts, a pretty live tree, tasty holiday treats and, heck-absolutely-yes, smell goods. Please believe that for the latter, I'll be heading over to Target stat to pick up more holiday cheer in Method's two holiday collections, which include yummy Gingerbread scents in the Sugar + Spice collection and Frosted Fir and Mistletoe scents in the method Evergreen Nice collection. Woooot!
Of course, aside from the smell-good factor, there's plenty reason to cheer for Method's holiday collections: the bottles are Christmasy cute; the fragrances smell holiday pretty and are made with natural essential oils; the gel, foam and dish soaps are naturally derived, biodegradable and triclosan-free; the bottles are made with 100% recycled plastic, and; none of the products were ever tested on animals. Score!
To celebrate holiday happiness this December, Method is launching its first ever Pinterest contest. Which totally makes Pinterest addicts like me giddy because, dude, I don't need an excuse to pin but, whoa!, it's nice to have one when Nick is all, "Dang, why are you still on Pinterest? Don't you have a book due?"
Why yes—yes I do. But I took a short pinning break yesterday because right now, at this very moment, Method is inviting folks to pin their holiday stocking stuffer wish lists along with their favorite Method products. To enter, simply create a Pinterest board titled "Method Holiday Happy" and tag each of your pins with #methodholidayhappy. Method's five favorite boards will win a bundle of holiday Method goodies!
Winners will be selected on Dec. 17.
Visit this link for rules and pinspiration. And while you're at it, check out the "MyBrownBaby Method Holiday Happy" Pinterest Board because, well, it's cutie and Santa just might find a few hints for what I'd like to find in my stocking on December 25th. *insert image of Denene winking here*
And after you're finished pinning, make sure you hit up Target or go online at methodhome.com (and well.ca for our Canadian friends) to cop a few of Method's holiday offerings. Clean—and pin!—happy!
So you know: I partnered with Method to write about my family's experiences with the company's environmentally-friendly cleaning products. Yes, I'm getting a check for this. No, they're not paying me to say nice things about their products. As always, my experiences and opinions are my own.
RELATED POSTS:
1. Clean Like A Mother: the Method All-Purpose Cleaner Put To the MyBrownBaby Test
2. Say No To the Jug: the Method Laundry Detergent Put To the MyBrownBaby Test 
3. Happy Hand Washing: High-Five A Rainbow With Method's "Green" Hand Soap 
4. Give Your Nose A Hug: Method Dish Soap Totally Makes Me Want To Clean Stuff
5.  Method + Orla Kiely = Pure, #CleanHappy Bliss In A Bottle
6. From Beach To Bottle: Method Tackles Ocean Plastic With New Soap. Plus, Take the Ocean Plastic Pledge 
Mom. NY Times bestselling author. Pop culture ninja. Unapologetic lover of shoes, bacon and babies. Nice with the verbs. Founder of the top black parenting website, MyBrownBaby.